Once in production, each of our suits will have over 30 hours of work put into it through the hands of the cutters and seamstresses.
O
Over the last decade, many tailors have become too imprecise with their definitions of made to measure and bespoke. There are too many people who will pass off made to measure as "semi bespoke" and an altered ready to wear suit as made to measure. There's a lot of smoke and mirrors for the unwary! It is not helped by the fact – even at the top end of bespoke – I have come across many customers who have come away from famous establishments not quite happy with their garments.
So what do I offer? I offer proper Italian made to measure suits. When you are measured, no paper pattern is cut but my tailors and I will take over 15 different measurements to ensure every detail of your frame is accounted for. I measure off a master garment. Some people will look down their noses at this but given too many people come away unhappy from bespoke tailors, I think working off a consistent base is absolutely critical. Using a set starting point means accuracy – rather than any mistake being made in cutting fresh patterns your measurements are used to create a proper made to measure suit. Using that master garment means even as we measure and put down your details, we can pin and chalk mark the base line jacket, immediately identifying problems, cross referencing our measuring and also allowing you – the customer – to instantly see the basic outline of what your final suit will look like.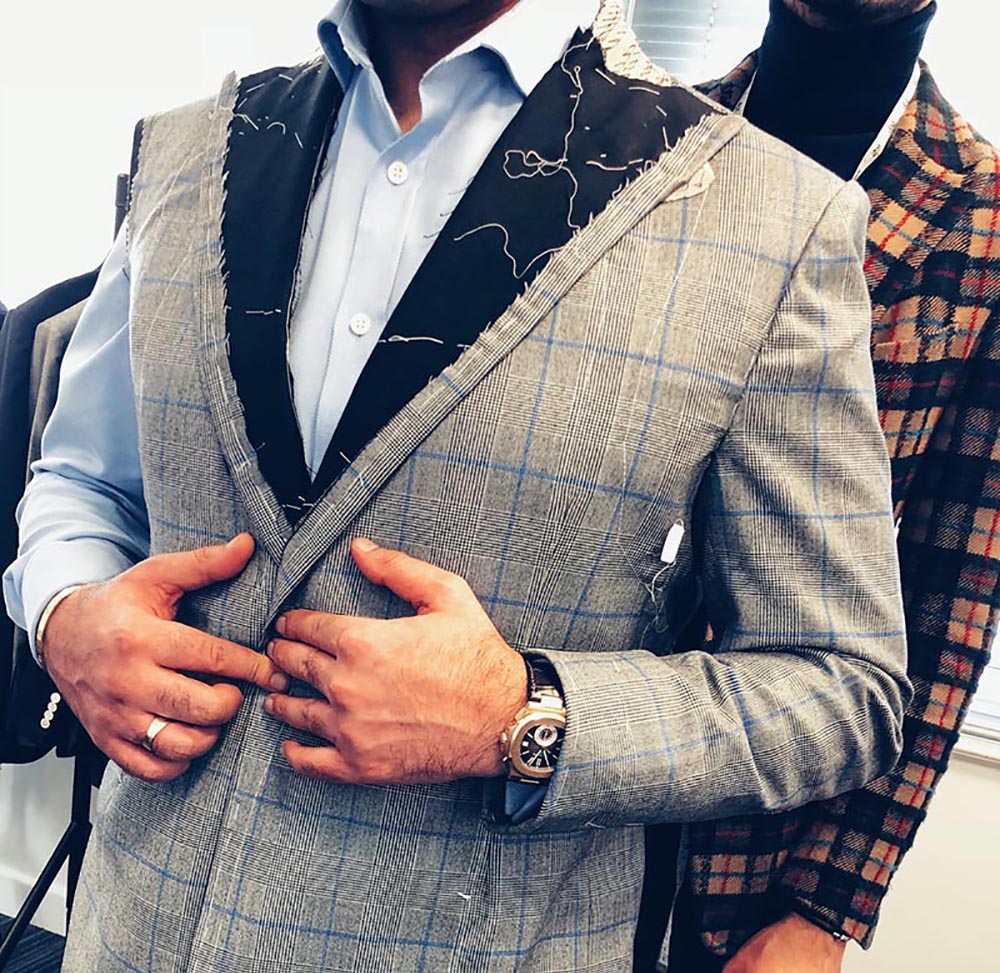 The fitting is crucial to ensure that the final outcome is nothing short of perfect.
All the measurements are then sent to one of Octavian K.'s workshops in Italy. All my jackets come with a full free-floating canvas – the bespoke gold standard of tailoring. Many made to measure brands will only bother with a half canvas to save on time and cost. The patterns held in the workshops will be deconstructed and each time put back together using your unique measurements – it's bespoke hand tailoring but working off an accurate base so no errors slip in with a poorly cut pattern. And the process can be done consistently every time you order.
Each of my suits will have over 30 hours of work put into it, many of the cutters and seamstresses in my workshops have worked in the tailoring business for over 30 years, every time I go to visit I remain astounded at the detail and the passion they put into every single item they touch. All of the horse hair canvases for the jackets are wetted and left to dry before they are shaped, button holes and trousers are hand finished, linings are sewn in by hand and collars hand stitched. Machining is kept to a bare minimum and only for parts of the suit where the strength and longevity offered by machine sewing is absolutely necessary.
An Octavian K. suit offers a bespoke level of detail and accuracy, in many ways it's a hybrid bringing together the best parts of Italian bespoke and made to measure tailoring. Above all I offer you a truly bespoke experience, from the first time we meet you will be able to get every part of your suit exactly the way you want it.
Using one of my master garments on your first fitting will allow you to immediately see whether you want a one or two button jacket, peak or notch lapels as you will have a jacket on that can be pinned to your exact proportions. With Octavian K. there is no guessing – there is no turning up at the first fitting to be disappointed as you chose something not quite right for you.
I welcome you to Octavian K., the next level of Italian made to measure tailoring. Made for the discerning who care, made for those that know more.